Welcome to masochistic heaven :)
OK this page has finally got some pics on it & Kerryn's tattoos shall be visible for the entire world.
The ankle band was Kerryn's first piece & he started wearing it on his right leg in '95 after a couple hours of sitting under the needle of CJ, a now retired artist from Edenvale.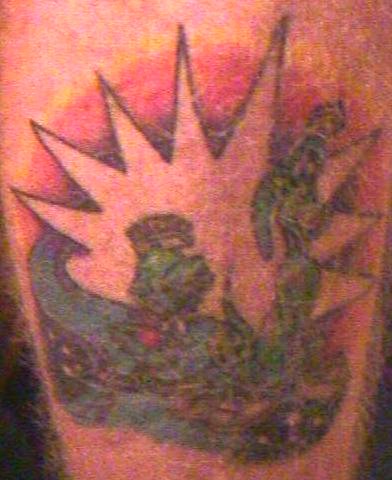 Kerryn got the original piece, Marvin The Martian, on it's own in January 1998, which was done by CJ too. Then in 2000 he had K-9 & background added by Ant (Phoenix Tattoos, South Africa) to make the image slightly larger so that it would fill up more of his outer left calf.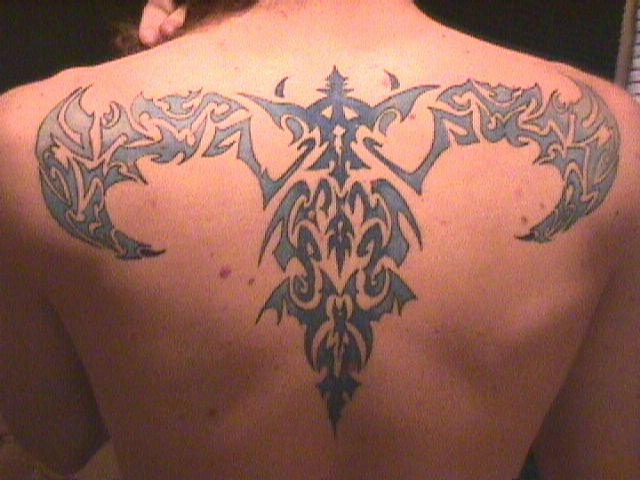 Cindy Taylor, designer of the Forced Disillusion cover, designed this piece for Kerryn & it was put on his back by Ant (Phoenix Tattoos) in Jan/Feb 2001 in 2 sittings. It was completed just before he left for the UK, so that he wouldn't have to roam around w/ a partially finished piece on him.
Go take a look @ Stef's & Marco's Tattoos.