All pics on this page were taken by Warren (Tamlyn's FT), other than the ones of him, which were taken by P.I.T.T. Members.
We left for Cape Town on Thursday the 30th of March & drove thru the night to get there by morning.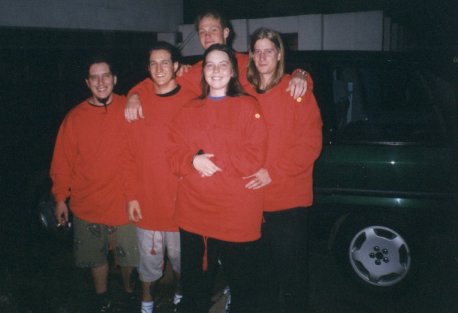 This is us in our sponsored tops & car from FIAT South Africa.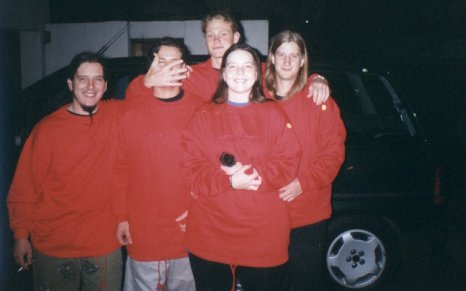 Here we have Kerryn ruining what could've been a perfectly good photo!
We'd also like to extend our thanx to FIAT South Africa for sponsoring our tour to the Cape by allowing us to use a FIAT Ulysse [to view info about the car, all U need to do is click on the Virtual Showroom button on the FIAT page & then find the car U're looking for... It looks like a space age van] for transport. Now if we could only afford to buy this as a tour vehicle, we'd definitely do it without a second thought. :-) Thank you FIAT once again!
We played @ The Big Tree on the 31st of March 2000.

This is the banner that greeted us outside The Big Tree in the Strand.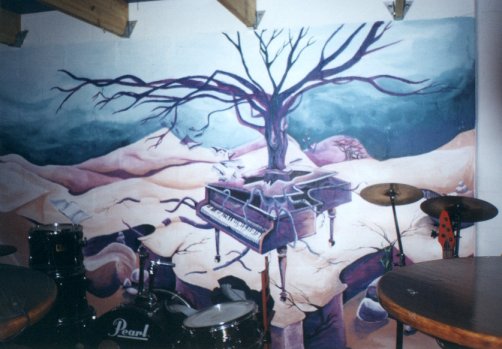 Here's the fresco inside the venue that I assume gives it it's name.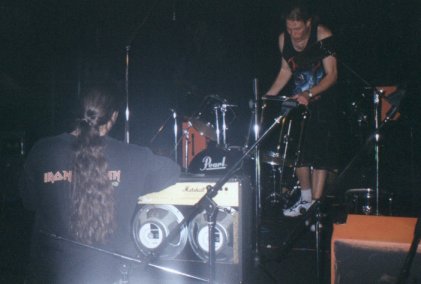 Stef & Kerryn set up everything on stage before sound check.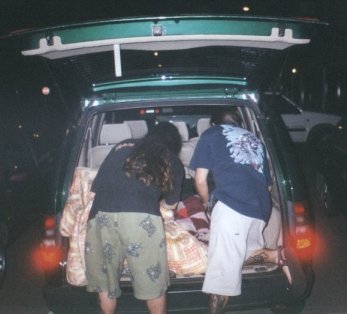 As U can see we had everything neatly packed in the Ulysse & we needed to unload everything to get at anything.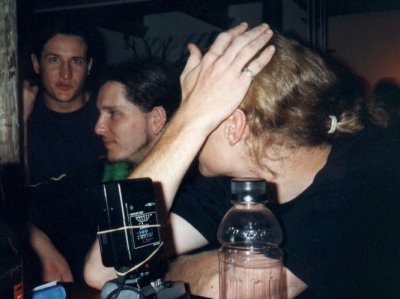 Here's a nice pic of us sitting around in the dark during someone else's sound check.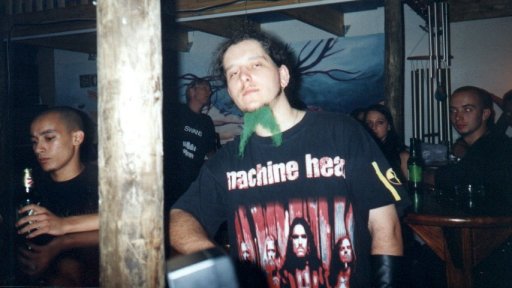 Stef with his trademark green goatee, & in the background there's Ronnie (Grämlich drummer) to his left & Colin (Grämlich photographer) to his right.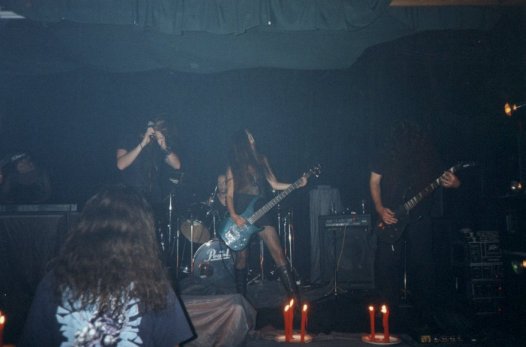 Grämlich played first & really got the crowd going. Here U see Sebastian on vocal, Glynis on Bass & Braam on Guitar, well U would see if it wasn't for all the hair in the way.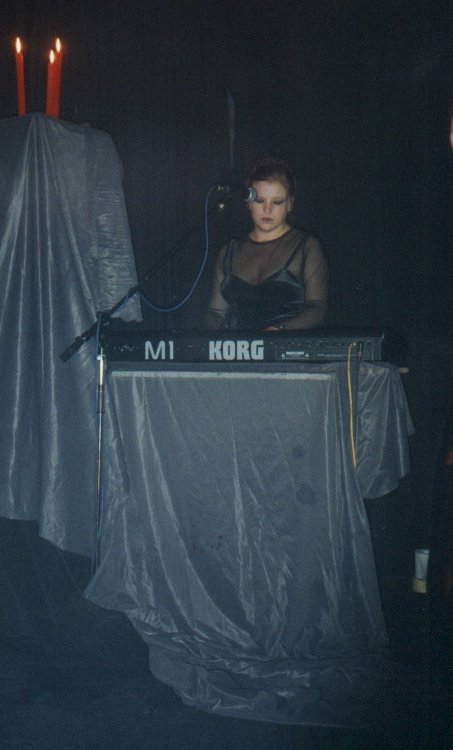 Esther of Grämlich on keyboards.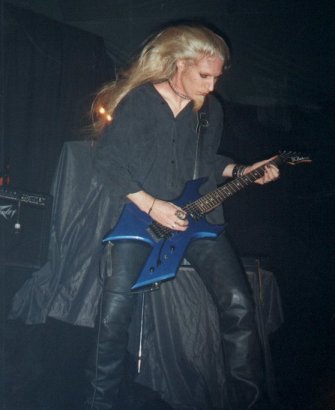 Malcolm of Grämlich on guitar.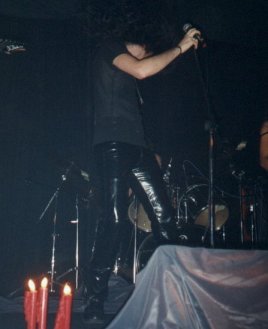 Sebastian of Grämlich on vocals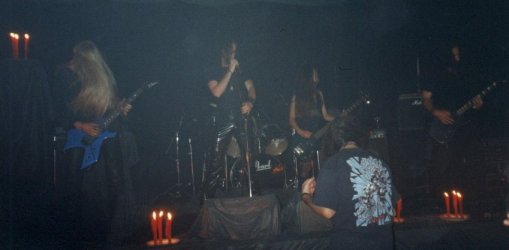 Grämlich & their amazing stage presence.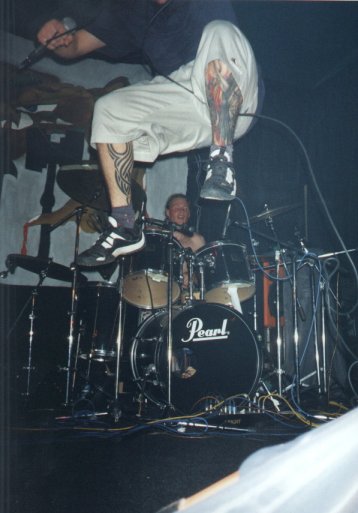 Marco doing one of his regular jumps, with Kerryn peeping thru his legs.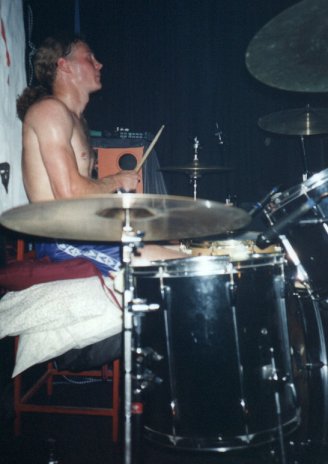 Kerryn starting to look a little weak on the drums there.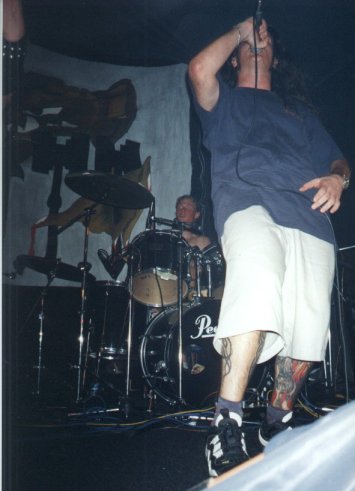 Marco singing into a mic, instead of jumping around for a change.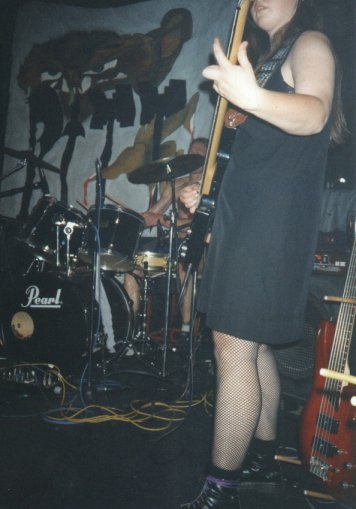 Tamlyn thumping out the tune on her bass.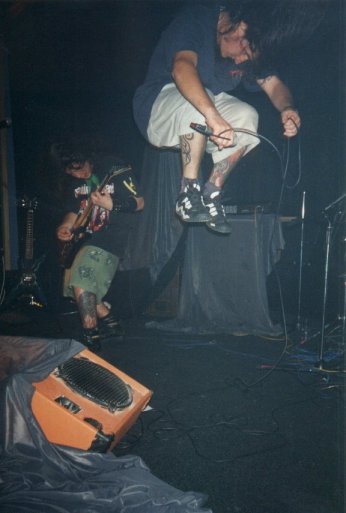 Marco doing another of his regular jumps, with Stef in the background this time.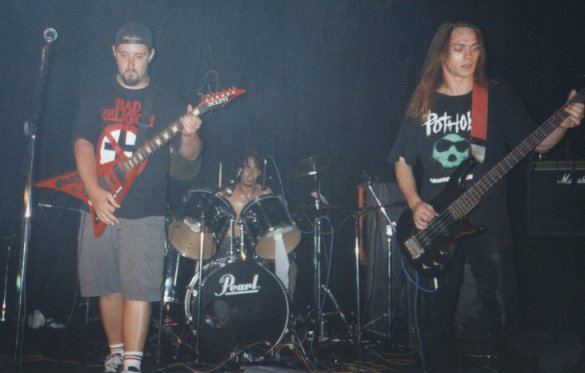 Pothole took the stage last, but boy did they cook up a storm. Adam was on guitar & vocals, Davey on drums & Jacques on bass.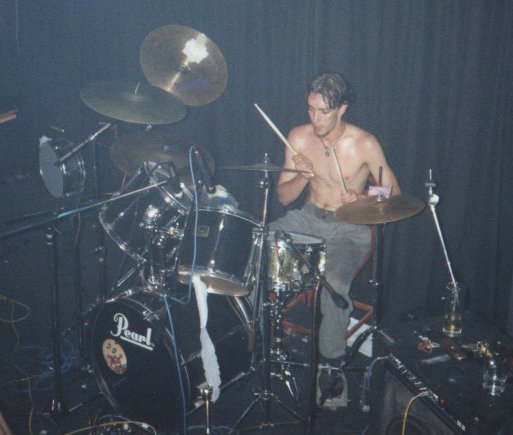 Davey of Pothole on the drums.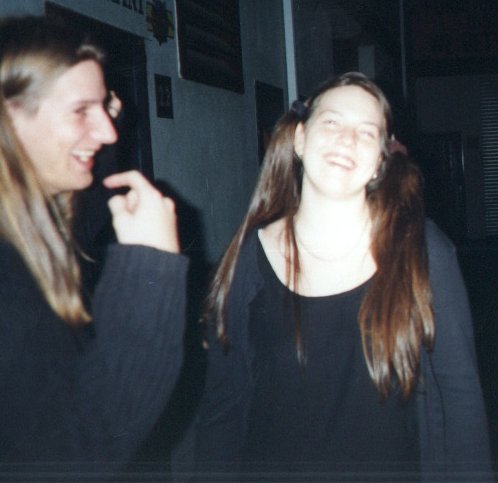 While waiting to leave, after having packed the Ulysse, Warren & I got bored & attacked Tamlyn & gave her some killer piggytails, here's the result. :-P
We played @ The Purple Turtle on the 1st of April 2000.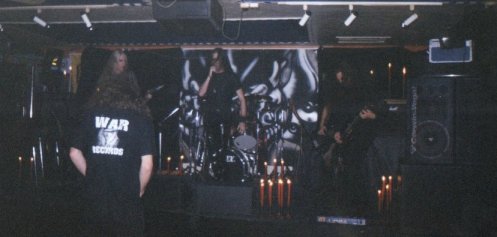 Grämlich went on stage 1st again, so they could party longer than any of the other bands.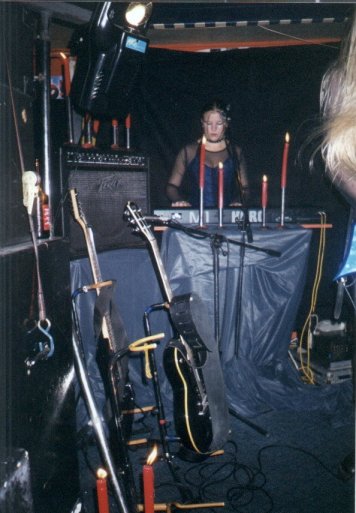 Esther with tones of equipment around her.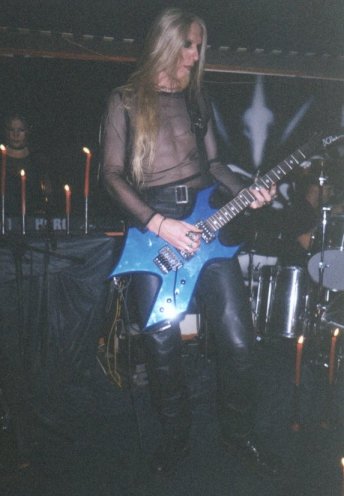 Malcolm looking really 'sexy' in his transparent shirt.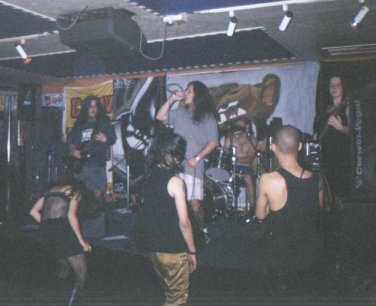 Us making a little noise @ The Purple Turtle & being extremely rude too. :-)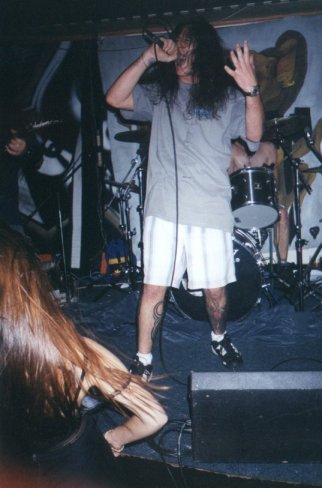 Marco looking all mild & meek, or something... NOT!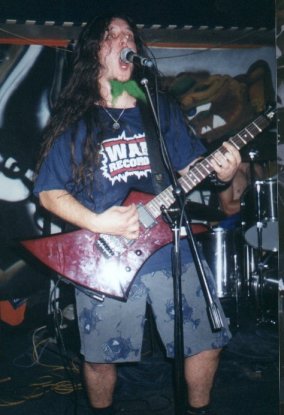 Stef trying to swallow his mic.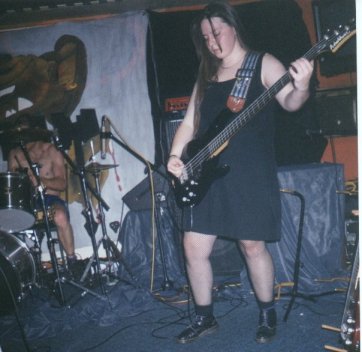 Tamlyn in a Gothic bass player pose.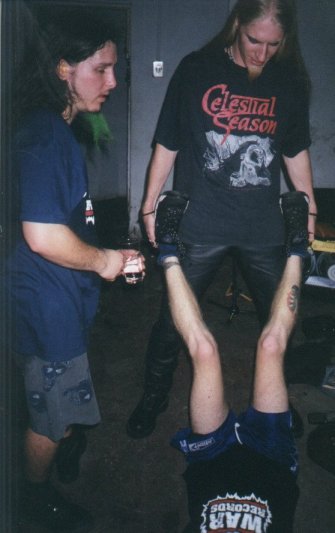 Kerryn passed out backstage w/ Malcolm holding up his legs, this was a couple of minutes before we rushed him off to hospital. There was nothing wrong in the end, but a bad case of the flu (& to set the Doctor @ the hospital's mind at ease... NO WE WEREN'T TAKING "RECREATIONAL NARCOTICS", fucker), but we were worried nonetheless.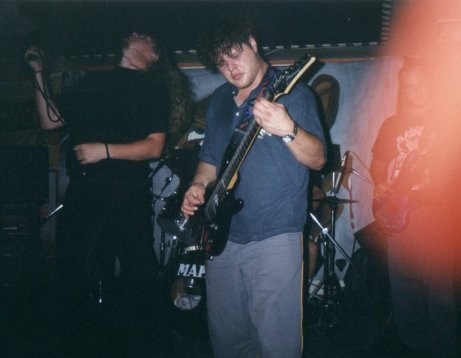 Sacraphyx played last, & we sadly missed them cos we had to rush our drummer off to the aforementioned hospital.
On the 2nd of April we had a huge get together @ Malcolm's place where ppl drank way too much, but the food & company was good so it was excused.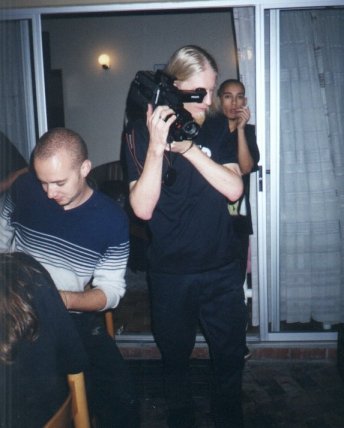 We had Malcolm running around trying to video tape everything that was happening. Wonder how much he actually got?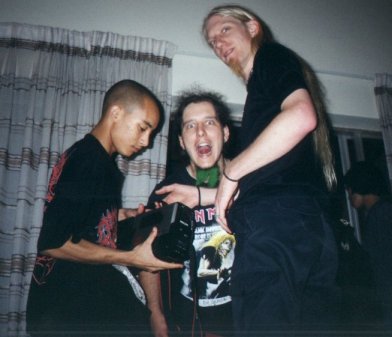 Colin's trying to show Malcolm how to actually use the camera, but to no avail. Esp. with Stef distracting everyone in the room.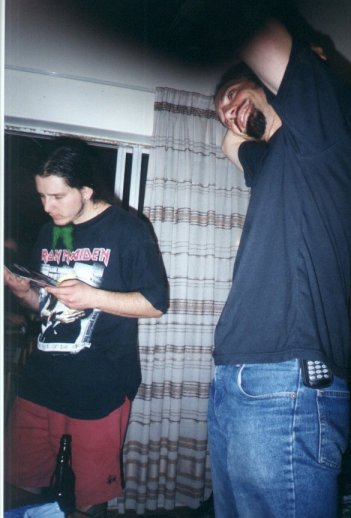 Stef's reading something while Braam's doing something w/ his hair.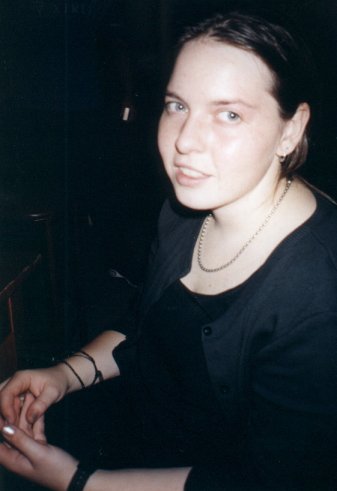 Tamlyn sitting by quietly watching everyone else's goings on.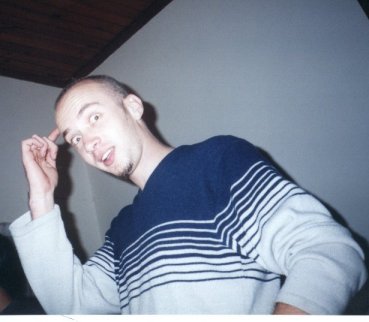 Ronnie being a mullet as usual.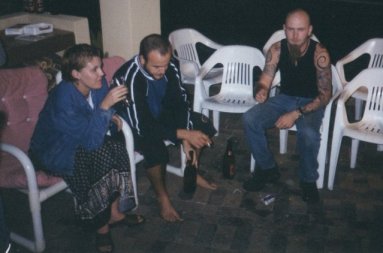 The Sacraphyx boys Johan & Alec chill on the chairs outside, with Johan is his better & calmer half.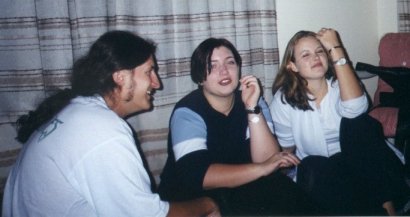 Helen is a 'Net friend of Marco's that he's known for 4 years but met for the first time that day. Corinne was there for protection from us 'metalhead' types.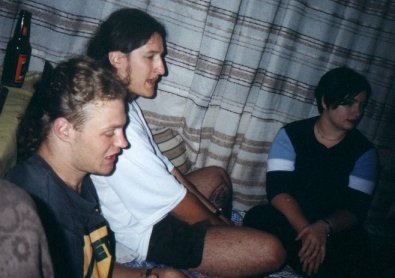 Kerryn, Marco & Helen chat & try to ignore the debauchery that's going on outside.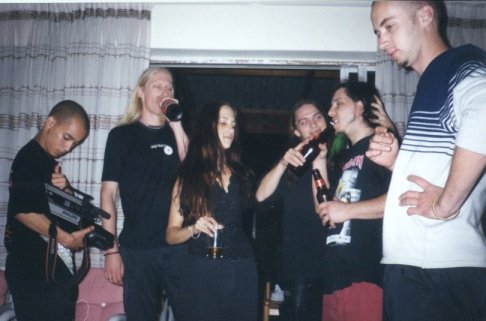 The party started to move indoors just so that the ones trying to find peace were denied. We have (L-R) Colin, Malcolm, Glynis, Jacques feeding Stef beer & Ronnie.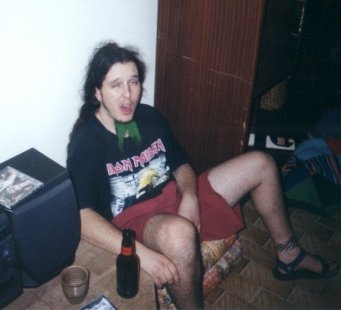 No matter how much he denies it, we have this photo to prove that the boy was completely wasted, & the fact that he passed out for about an hour after the pic was taken was another indication, in that very spot too for that matter.
On the 3rd of April we did a few social things before heading back home to Johannesburg.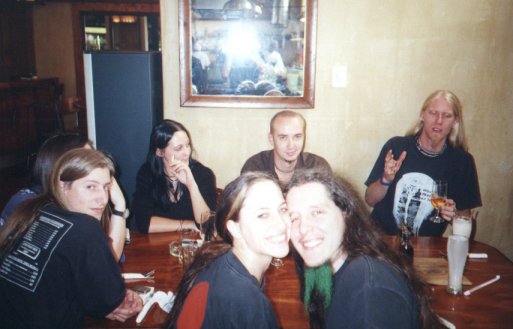 We all went for a lovely lunch @ the Long Street Cafe.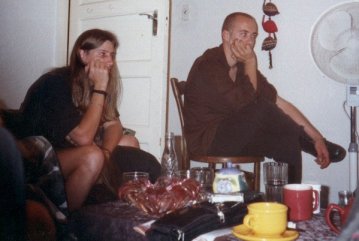 Watching videos @ Ronnie's place after lunch. U can see Warren & Ronnie... Tam's in the photo too, but where??? ;-)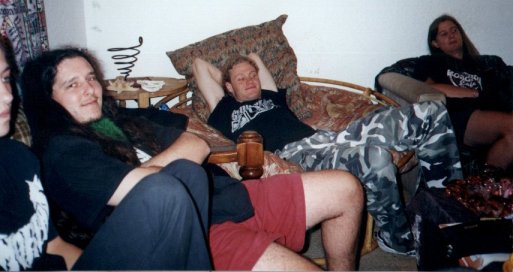 Here U can see Stef & Kerryn & a very darkened bit of Warren.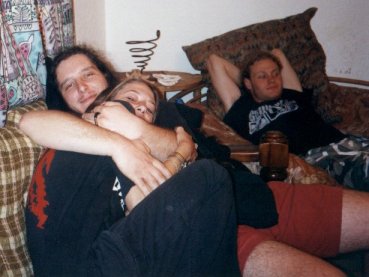 Stef's giving Glynis a hug while Kerryn lounges in the next couch.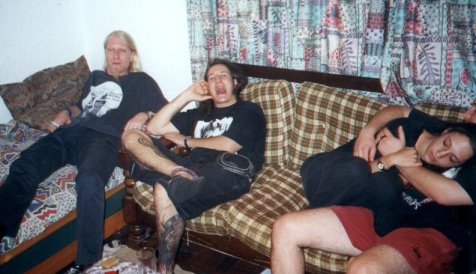 Malcolm lies back while Marco tries to show off a tongue bolt & Glynis is still in the pose from the previous photo.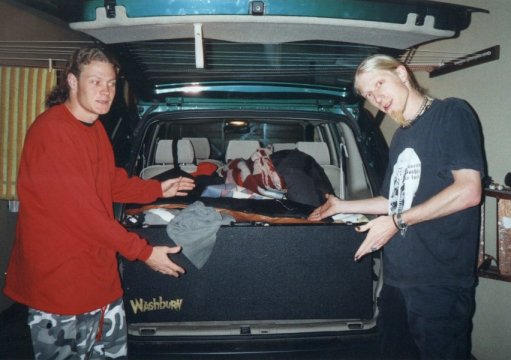 Kerryn & Malcolm try show off how neatly we've packed the Ulysse. Man that things was a beaut.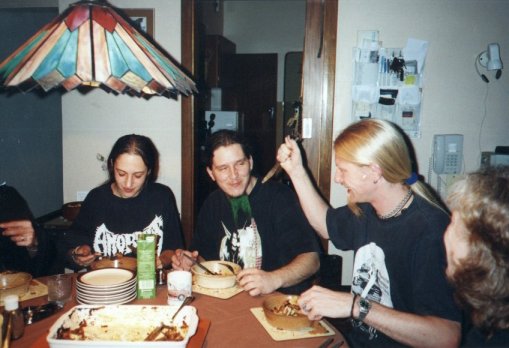 Malcolm's mom (Jo) made us all dinner for our long trip home, & we couldn't help but finish everything that was laid before us, not only owing to our gluttony, but it was damned good.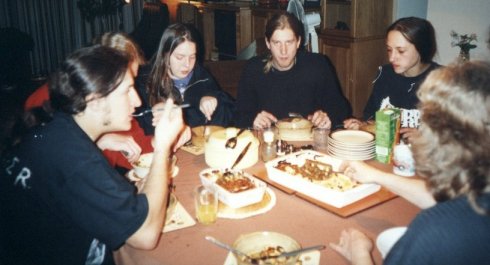 Marco even got his own bowl of vegetarian lasagne, the joys of not eating meat & having to share w/ everyone else.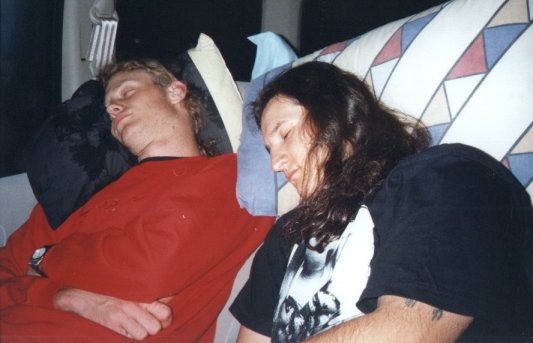 Kerryn & Marco get some well deserved sleep on the way home in the Ulysse.
Some nice pics huh?
Here are some more pics to look @.
Some pics of a gig @ Kebab Junction.
Some pics of Stef & Marco.
Some pics of a Practice @ Stef's place in April '97.
Some pics of our TOMS Battle of the Bands '97 gig @ Wings.
Some pics of our Hallowe'en '97 gig @ Wings.
Some pics of our RadioPark Battle of the Bands '98 gig @ Morgan's Cat.
Some pics of our TOMS Battle of the Bands '98 gigs @ Roxy's & MegaMusic.
Some pics of our Cryogenic gig @ The Doors in October '98.
Some pics of our Hallowe'en '98 gig @ Strange Daze in PTA.
Some pics of our New Breed Cape Town Launch @ The Jam in July '99.
Some pics of our Durban Gig @ The Winston in March 2000.
Some pics of our The Standard Music Venue, & debut U.K. gig in London in July 2001.
Some pics of our Kingston Peel gig in London in October 2001.
Some pics of our Kings Head gig in Fulham in October 2002.
Some pics of our Sanctum gig at Angel May 2003.
Some pics of our RuskFest gig in East Ham May 2003.
Some pics of our DeathFest gig in Camden Town June 2003.